Title: Atmos Energy Empowers Ira Cross Elementary with Book Vending Machine
Reading just got a whole lot more exciting at Ira Cross Elementary School. On Monday, November 6, 2023, the school introduced Inchy's Bookworm Vending Machine. It was made possible by the generous support of Atmos Energy. This literacy innovation is aimed at inspiring young readers. It is a testament to Atmos Energy's commitment to education.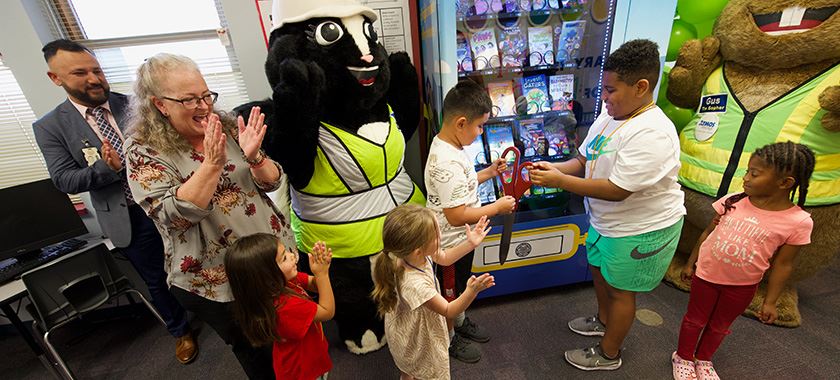 A Colorful Addition to the Library
The eye-catching book vending machine, sits at the entrance of the school library. It's beckoning students with its vibrant design. Inside, a delightful collection of books awaits, catering to a range of reading levels, from chapter books to easy-readers. It serves as constant reminder of the exciting world of literature that lies within the library.
Motivating Readers and More
Principal Tomas Sias and Librarian Barbara McYoung share the belief that this novel addition will not only ignite a passion for reading but also encourage positive behavior, attendance, and academic performance. So, the first lucky recipients of tokens and free books were the "Students of the Month" for November.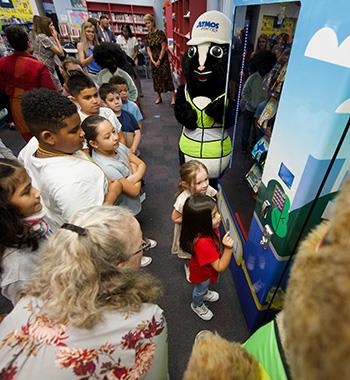 Reading Rewards
Librarian Barbara McYoung has thoughtfully developed a program for third- through fifth-graders, enabling them to earn tokens by completing book-based projects. "The idea is to encourage them to read independently and remember what they read," she explains. "I love that kids can pick a book to take home – that it's theirs to keep."
Generosity by Atmos Energy
Representatives from Atmos Energy, alongside Superintendent Jo Ann Fey and other district and campus leaders, witnessed the students' enthusiasm as they made their book selections. Atmos Energy not only covered the cost of the vending machine but also ensured it was fully stocked. Additionally, school book fair proceeds, an existing fundraiser, and donations will help maintain a well-stocked inventory.
Young Readers Share Their Excitement
Fifth-grader Aiden Prado, one of the first to use the vending machine, chose a graphic novel titled "Allergic" because of its captivating cover featuring a child with a pet. He believes the book vending machine is a fantastic idea, as it motivates students to earn tokens for a free book. "I think it's great," he says. "If you're good, you can get a book for free."
So, the introduction of the book vending machine at Ira Cross Elementary School, generously donated by Atmos Energy, is not only a celebration of reading but also a testament to the power of community partnerships. It's an exciting new chapter in the students' literary journey, one that promises to inspire a lifelong love of reading, thanks to the support of Atmos Energy.