Hey there Bookworms! Ettrick Elementary just unveiled their Inchy's Bookworm Vending Machine. That's right. You often find snacks or soda in a vending machine. But this isn't the case at Ettrick Elementary. Their vending machine doles out brand new books! It's all thanks to the support of the community. The Ettrick Lion's Club and Ettrick Community Foundation teamed up to work on the project.
Ettrick Elementary's Literary Trailblazer
Meet Charlie Baures, a fifth-grader with the honor of being the first to experience the magic of Inchy's Bookworm Vending Machine. With an infectious grin, Charlie exclaims, "I think it's awesome because it's actual good books that people want to read, and it's also a fun way to get them." The excitement is palpable, and it's clear that this initiative has struck a chord with young readers.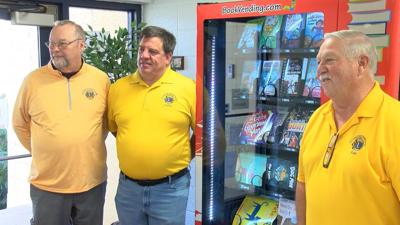 Lions, Foundations, and a Library of Dreams
Ron Zellmer, who's a part of the Ettrick Lion's Club, originally had the idea after seeing it elsewhere outside of the community. "In reading, the better you can read, the further you're going to advance so this is instrumental and fundamental."
A Year of Literary Abundance for Ettrick Elementary
The school purchased a year supply of books for the vending machine. The two donor organizations will continue to give the school book stipends in the future.
At Bookvending.com, we take immense pride in our contribution to a greater cause. Our goal is to simplify the process of acquiring Inchy's Bookworm Vending Machine, making it as straightforward as possible. One way we accomplish this is by highlighting organizations dedicated to supporting the funding of Inchy's Book Vending Machine. Learn more about Inchy's Book Vending Machine by clicking here.